How do I make the best use of my warehouse space? Which warehouse and IT systems are best suited for my processing? How can I optimally increase my warehouse capacities? Companies face these and other questions when they want to optimise, expand or plan their warehouse from scratch. The points to which those responsible should pay attention are presented in the following.
1. Logistics planning = warehouse planning?
The terms "logistics planning" and "warehouse planning" are often used synonymously. In fact, however, warehouse planning is only one part of the broader logistics planning. The latter also includes other elements, for example, distribution strategies, make-or-buy issues, service provider deployment, etc.
Warehouse planning, on the other hand, focuses on the planning of warehouse layout, logistics technology, processes, IT, buildings and personnel. The most important planning criteria include flexibility, expandability, redundancy and economic efficiency.
2. Finding a location
The region in which a plant or logistics location is to be established is selected as part of the national or international distribution strategy. This strategy is usually developed in advance of warehouse planning. The task of warehouse planning is then to analyse the potential of the available land. By calculating range, capacities, dynamics and other factors, it can be determined whether and for how long a property is suitable for the task at hand.
3. Greenfield or brownfield planning?
Planning a warehouse for a greenfield site is usually easier than expanding or optimising an existing factory site. While in existing structures the buildings, functions, internal traffic routes and other fixed points limit the planning options, logistics can be optimally laid out on the greenfield site. In practice, however, brownfield planning is the more common scenario, as most companies already have land and buildings that are to be economically included in the expansion.
The 3 steps of warehouse planning
1. Planning basis
Analysis of warehouse data, processes and layout
2. Alternative solutions
Comparison of layouts, technology, economic efficiency, etc.
3. Implementation concept
Optimal concept incl. economic efficiency
4. Process for warehouse planning
The process of warehouse planning normally takes place in three consecutive steps:
Planning basis: A strengths and weaknesses analysis is carried out, actual data and processes are recorded, evaluated and extrapolated to the planning target.
System alternatives: Solution approaches are developed and compared with a focus on warehouse layout, technology and processes. Possible alternatives are evaluated quantitatively and qualitatively in terms of performance, economic efficiency and other criteria.
Implementation concept: A target concept including technology and processes is developed as a step-by-step plan, the economic efficiency is calculated and the schedule for implementation is drawn up.
5. Processes and IT: efficiency and transparency
Whether in trade or in production supply, the goal of every logistics operation is to create efficient processes and transparency. Accordingly, a component of warehouse planning is the question of the extent to which IT support and process design can be improved in logistics.
The most common optimisation measures include
the introduction of warehouse management software, its updating or restructuring, and
the introduction of hardware and / or peripheral equipment.
As part of the development of a warehouse concept, these needs are identified and possible solutions for processes and hardware are developed.
6. Storage technology: manual, partially automated or autonomous?
One of the most important questions in warehouse planning is which warehouse technology to use. This influences performance and availability as well as expansion possibilities, investments, personnel structures and many other key factors.
Increasing automation is leading to significant changes in warehouse planning:
Numerous new systems make overview, comparison and selection more complex and technically more demanding.
The combination of different systems requires many interfaces, complicates planning and implementation and increases the risk of failure.
The increased use of technology requires that even better failure concepts be developed.
The increasing demands of logistics technology on buildings must be taken into account in the planning even more than before.
7. Flexibility, expandability, modularity
Companies demand a high degree of flexibility from their logistics. Capacities should be able to be increased with little financial and time effort and processing should be able to be adapted to new articles. To meet these demands, warehouse planning must be forward-looking and modular, so that all planning modules can be expanded, changed and exchanged.
8. Economic efficiency
Economic efficiency calculations should already be carried out in the course of comparing alternatives within the framework of warehouse planning. For many companies, the return on investment (ROI) is no longer the only decisive factor. Performance, transparency, reliability and other aspects also play a role in the evaluation. Due to the shortage of skilled workers, planning aspects such as ergonomics and the targeted use of technology to reduce personnel requirements are also coming into focus.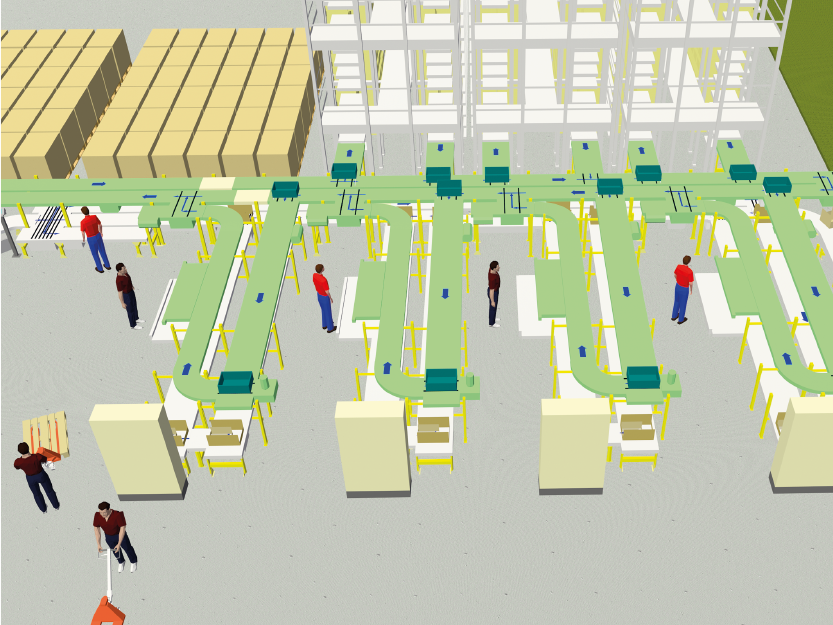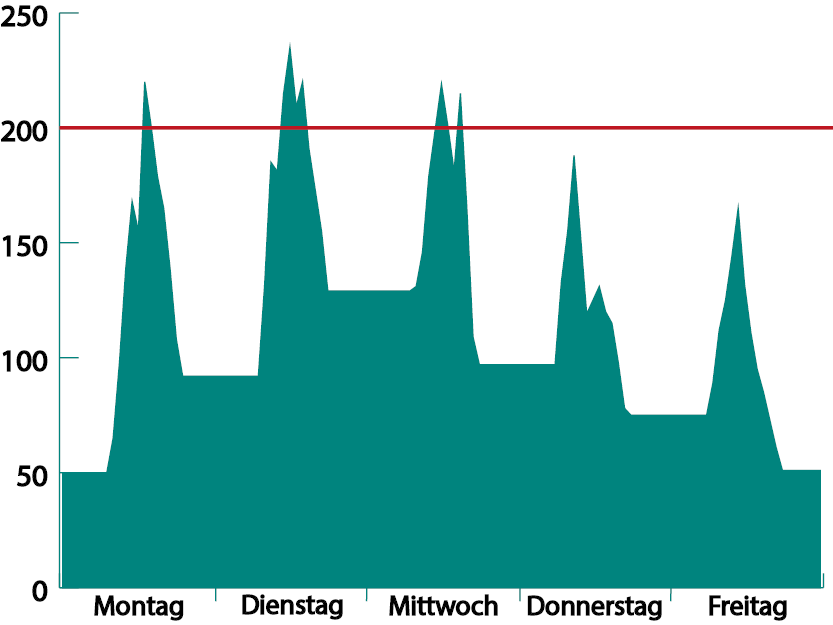 9. Warehouse planning via software
Software support is also used in warehouse planning. However, since warehouse planning involves numerous business decisions in addition to comparative scenarios, there is no programme that can carry out all planning steps independently. So-called "warehouse planning software" is able to calculate the number of pallet spaces in a defined area. But it is already overtaxed with the determination of an optimal warehouse layout including suitable logistics technology and taking into account expansion possibilities.
Much more helpful for planning are:
Simulation software: It is used for the computational verification of complex planning scenarios. If necessary, it is only used during detailed planning when a concept has been comprehensively elaborated. For simulation, the planning is reproduced in a digital model. Then the concept is validated by means of test runs with real data.
Visualisation software: This is used to illustrate alternative solutions and facilitates coordination between those involved in the planning process.Doch auch diese Software-Hilfen sind nicht in der Lage, komplette Lagerplanungen eigenständig zu entwickeln.
10. Realisation
If warehouse planning is to be implemented, the following steps follow the concept planning:
Detailed planning: detailed elaboration of the concept, simulation as required, coordination with other trades and authorities.
Tendering: specification and preparation of tender documents, approaching bidders, comparison of bids, bid and contract negotiations
Realisation: Implementation of technology and / or IT, test phase, go-live, tuning
In order to safeguard functionality, budget and timeframe, implementation that is true to the concept is of central importance.